Percy Gray Biography
Born in San Francisco, California, Percy Gray became one of that state's best-known professional landscape painters in the late 19th and early 20th centuries. He is most often associated with Northern California landscapes with oaks or eucalyptus trees, and these paintings with colorful lupines and poppies are the most collectible. He also did a few portraits and etchings.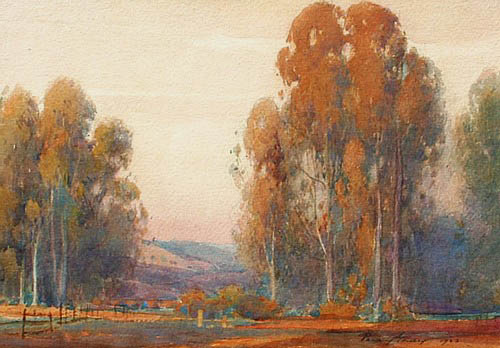 "Eucalyptus"
SOLD

As he matured, he developed an allergy to oil paint, so he changed to watercolor. In his paintings, he created distinct perspectives and atmospheric qualities by using a unique method of building up paint.

He was from a British family where twelve of his ancestors were artists. He grew up in Northern California, and developed an early love of the landscape from spending his summers at the family home at Inverness in Marin County.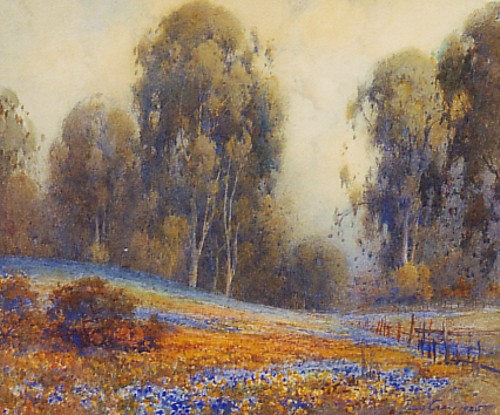 "Poppies and Eucalyptus"
Watercolor, 16 x 20 inches
SOLD


In his early teens, he suffered an illness that confined him to bed for a prolonged time, and to keep him occupied, his brother bought him art supplies. It was almost immediately obvious that Henry had special talent, and by the time, he was 16 and entering the San Francisco School of Design, his work was collectible. He studied at the School with Emil Carlsen and then began his career as a sketch artist for the San Francisco "Call" newspaper.
In 1895, he went to New York and worked eleven years as head of the art department for William Randolph Hearst's New York Journal. At night, he studied at the Art Students League with William Merritt Chase, whose theories of landscape painting had a life-long influence on Gray.
In 1906, after the earthquake and fire, he returned to San Francisco and worked until 1920 as illustrator for the Examiner. By 1920, he felt established enough as a landscape painter to become a full-time artist.

From 1918 to 1923, Gray had maintained a studio in San Francisco and lived in his studio in the Montgomery Block, but in 1923, he married and settled in Monterey, renovating an historic home once occupied by William Tecumseh Sherman, the famous Civil War General.
ln 1939, he and his wife moved to Marin County, and after his wife died in 1951, he again became a resident in San Francisco, living in the Bohemian Club until his death in his studio from a heart attack in 1952.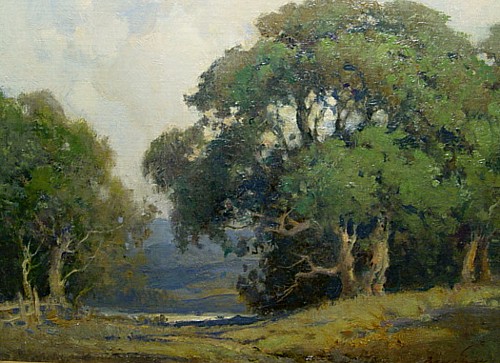 "Oaks in Landscape"
SOLD


In addition to California landscapes, he painted scenery of surrounding states including Arizona, Washington, and Oregon. He also painted some portraits of Southwest Indians but declared many times that he did not enjoy portrait painting.

His great love was roaming the hills in the San Francisco area, sketching the basics, and completing landscapes in his studio. The work of his later years is not considered as desirable as earlier paintings because it was more sombre and contemplative. Many collections have his paintings including the Crocker Museum at Sacramento and the Stanford Museum at Palo Alto.

Source:
American Art Review Michael David Zellman, 300 Years of American Art Edan Hughes, Artists in California, 1786-1940
info@kargesfineart.com for further information